HOME / Department /
Laboratory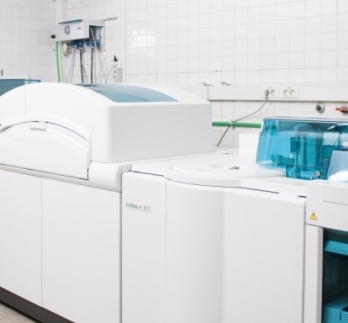 Laboratory
The Department of Laboratory Medicine at the Lebanese Hospital Geitaoui-UMC provides a comprehensive panel of testing services, 24 hours a day and seven days a week.
The majority of tests are performed on site. Certain tests are referred to designated and approved reference laboratories abroad.
Testing is realized by registered medical technologists and other trained professionals using the latest technologies and methods.
The rapid turnaround time the laboratory provides allows caregivers throughout the hospital to treat their patients in a timely manner.
The testing panel includes :
Clinical chemistry

General chemistry tests include electrolytes, proteins, minerals, vitamins, enzymes, kidney function tests, liver function tests, cholesterol, lipids, anemia tests and cardiac bio markers
Hormone measurements (adrenal, thyroid, bone, reproductive)
Oncology markers (prostate, breast, liver, ovarian, gastrointestinal and colorectal)
Therapeutic drugs
Toxicology and drugs of abuse (serum, urine)

Hematology, coagulation, urinalysis
Immunology and flow cytometry

Testing blood samples for HIV, viral hepatitis, Lyme disease, measles, mumps, varicella and other infectious disease markers
Tuberculosis screening
Comprehensive workup of autoimmune disorders, utilizing the latest multi-array technology and traditional immunofluoresence studies
Special protein analysis including protein electrophoresis, immunofixation and immunoglobulin measurements

Microbiology

Antimicrobial testing
Bacteriology
Mycology
Mycobacteriology
Parasitology
Rapid testing: including rotavirus, influenza A and B, and rapid strep.
Virology
The Laboratory Department also provides services to external structures with which the hospital has an agreement, in particular for specialized tests.
Quality Management in the Laboratory Department both in pre analytic, analytic and post analytic is a major concern of the department's team in order to provide prescribers an efficient and reliable service in a spirit of professionalism and openness to novelties of the domain to meet the expectations of the medical team.

The Department's Biologists are always ready to meet the needs of the hospital's practitioners on any clinical advice, choice of analysis or interpretation of results.
Results are available online for patients and physicians as well as in the Laboratory Department, and are sent to the prescribing physician and the patient without delay.
Biologists are available to advise and answer the patients' questions.
For more information, please contact: 01-590000 ext 1010